---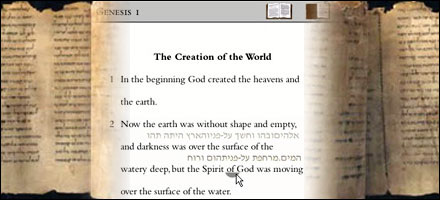 ---
description
The e.bible is an online screen reader for sacred texts. Such texts are used and read differently than other texts, and the e.bible attempts not simply to present text on the screen, but rather to preserve the sacredness of the text and facilitate user behaviours that are specific to religious readers. The user interface is designed so that both general tasks (browsing, searching) and specifically religious tasks (meditation, bibliomancy) can be accomplished using the same controls. Layers of translation, revealing and occluding the ancient Greek or Hebrew text, serve not just as a theologians tool but also to emphasize the age and mystery of scripture to the lay reader.
context
"Screen bible" was a 3-week workshop led by Hayo Wagenaar at Designskolen Kolding in 2003. Each student was challenged to design a screen-based version of the Bible, with the constraint that it must incorporate the entire text of the Bible.
process
The project started with research and benchmarking - interviewing people about their bible-reading habits, and looking for similar applications online. In developing the e.bible concept, I was inspired by my previous studies in comparative religion (especially the theories of Rudolph Otto and Mircea Eliade), as well as my encounters with popular religious practice in both Christianity and Islam. I explored the design through "digital sketches" - simple, but working, applications intended to prototype and test the "feel" of user-mouse-pointer interaction.
results
The design process culminated in a working prototype, made using Macromedia Director. While the prototype is quirky, it allowed for demonstrations and user testing; to highly positive reviews.